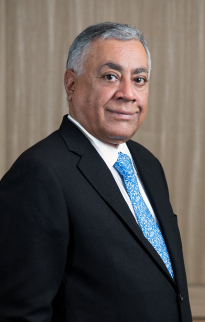 DR. HARINDARPAL SINGH BANGA
Chairman and Chief Executive Officer

Dr. Harindarpal ("Harry") Singh Banga is the founder, Chairman and Chief Executive Officer of The Caravel Group.

Prior to founding The Caravel Group in 2013, Dr. Banga was the Vice Chairman of Noble Group, a leading global supply chain manager of commodity products, which he helped establish in 1989. As Vice Chairman, Dr. Banga's responsibilities on the Board of Directors included membership on the Nominating, Corporate Governance, Finance and Operations, Government Relations, and Investment and Capital Markets Committees. Prior to his retirement as an executive at Noble Group in 2010, Dr. Banga was fully responsible for the Logistics (including Ship Owning, Chartering and Management) and Metals, Minerals and Ores operating units. Dr. Banga also sat on several Executive Committees including the Capex, Risk, and Management Committees.

Dr. Banga, a Master Mariner, is a Fellow of the Institute of Chartered Ship Brokers. He is on the Advisory committee of the Centre for Transport, Trade and Financial Studies at City University, Hong Kong. Dr Banga is also a member of the Singapore Institute of Directors. Previously, Dr. Banga had served as an Executive Committee Member of the Hong Kong Shipowners Association for a period of eight years.

In January 2011, the then President of India, Mrs. Pratibha Patil conferred the prestigious Pravasi Bharatiya Samman Award on Dr. Banga was honoured with a Lifetime Achievement Award by Seatrade. In the same year, he was also named "Personality of the Year" by The International Bulk Journal.

In 2018, he was conferred the "NMD Award of Excellence" by the Directorate General of Shipping, India and the National Maritime Day Celebrations Committee; and in 2019, he was recognised as the "Most Influential Business Leader of Asia" by The Economic Times, to name just a few.

In 2020, City University of Hong Kong (CityU) conferred honorary doctorate to Dr. Harry Banga in recognition of his significant contributions to education and the well-being of society.
Dr. Banga is currently the President of the Forum of Indian Professionals in Hong Kong, and is also involved in other Indian and Hong Kong organizations. He is also a devoted patron of several philanthropic and charitable efforts both in India and abroad. He set up 'The Caravel Foundation', together with his wife, Mrs Indra Banga, to give back to the community. The Foundation, a registered charity in Hong Kong, focuses on education and healthcare for underprivileged children primarily in Hong Kong, mainland China and India.
LIVING LEGENDS WHO INSPIRE US