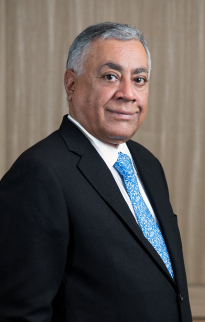 MR. HARRY S. BANGA
Chairman and Chief Executive Officer

Mr. Harry S. Banga is the founder, Chairman and Chief Executive Officer of The Caravel Group.

Prior to founding The Caravel Group in 2013, Mr. Banga was the Vice Chairman of Noble Group, a leading global supply chain manager of commodity products, which he helped establish in 1989. As Vice Chairman, Mr. Banga's responsibilities on the Board of Directors included membership on the Nominating, Corporate Governance, Finance and Operations, Government Relations, and Investment and Capital Markets Committees. Prior to his retirement as an executive at Noble Group in 2010, Mr. Banga was fully responsible for the Logistics (including Ship Owning, Chartering and Management) and Metals, Minerals and Ores operating units. Mr. Banga also sat on several Executive Committees including the Capex, Risk, and Management Committees.

Mr. Banga, a Master Mariner, is a Fellow of the Institute of Chartered Ship Brokers. He is on the Advisory committee of the Centre for Transport, Trade and Financial Studies at City University, Hong Kong. Mr. Banga is also a member of the Singapore Institute of Directors. Previously, Mr. Banga had served as an Executive Committee Member of the Hong Kong Shipowners Association for a period of eight years.

In January 2011, the then President of India, Mrs. Pratibha Patil conferred the prestigious Pravasi Bharatiya Samman Award on Mr. Banga for his outstanding achievements in the field of business, valuable contribution in promoting the honour and prestige of India and in fostering the needs of overseas Indians.

In 2011, Mr. Banga was honoured with a Lifetime Achievement Award by Seatrade. In the same year, he was also named "Personality of the Year" by The International Bulk Journal.

Mr. Banga is currently the President of the Forum of Indian Professionals in Hong Kong, and is also involved in other Indian and Hong Kong organizations. He is also a devoted patron of several philanthropic and charitable efforts both in India and abroad.
LIVING LEGENDS WHO INSPIRE US