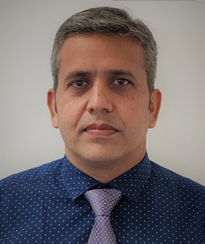 CAPT. SAMEER PHADKE

Designation: Senior Manager - Training

Educational Qualification:
B.Sc(Nautical Science),
Master (FG) 2008

Work Experience:


Capt. Sameer Phadke, completed his pre-sea course from T. S. Chanakya in the year 1997. He joined a leading Indian shipping company "Five Star Shipping". He has joined FML in year 2001 as "Third Officer" and took all further promotions in FML upto Master.

He has sailed on a variety of ships and gained experience on both dry and wet trade. His last shipboard assignment was in 2011, when he sailed as Master on a bulk carrier. He has sailed on all types of bulk carrier from Handy size till VLOC.

Working ashore he has worked as "Port Captain" for break bulk cargoes prior joining FML. He has joined FML as SMS Trainer in March 2012. In 2013 he has changed over as "DRYOPS Superintendent" for our Cyprus Group and was working with them until March 2021 when he was "Senior Manger Dry-Operation".

He joined FMTI in March 2021 as 'Senior Manger Training' and is a faculty in a variety of training courses conducted by the Institute.